STORY HIGHLIGHTS
Millions were affected and thousands were killed in the 1930s' Dust Bowl era
Experts say we're a long way from a Dust Bowl repeat, but note major challenges
New tools and techniques have made it easier for farmers to adapt, with limits
As one climatologist specilizing in drought mitigation says, "Mother Nature holds all the cards"
(CNN) -- Some 3.5 million people fled their homes in Oklahoma, Texas, and elsewhere, the bone-dry landscape, blistering heat and choking dust storms unfit for growing and raising the crops and cattle they relied on to survive.
Thousands more, many of them children and seniors, could not escape, killed by an infection dubbed "dust pneumonia" and other illnesses tied not just to the extreme weather and poor living conditions but to massive, fast-moving dust clouds.
Those clouds and barren terrain across much of middle America gave this period of despair its name: the Dust Bowl.
There were suicides, there were bankruptcies, there were people scrapping for whatever they could find to live. And these were not overnight horror stories: They were repeated day after day and year after year, at a time when much of the United States and world was already debilitated by the Great Depression.
"If you can imagine what's happening now and multiply it by a factor of four or five, that's what it was like," said Bill Ganzel, a Nebraska-based media producer who interviewed survivors of the 1930s' environmental and economic disaster and penned a book, "Dust Bowl Descent." "And it lasted for the entire decade."
From dry rivers to dead deer, drought's impact felt everywhere
Nothing in U.S. history can compare to that calamity of eight decades ago, including the historic drought now gripping much of the country.
That doesn't mean, though, there isn't considerable suffering and devastation now in most of the United States. Or that dire conditions could well persist for several years, as they did during the 1930s -- compounding negative impacts of drought, thus ruining even more livelihoods and lives despite technological and agricultural advancements of recent years.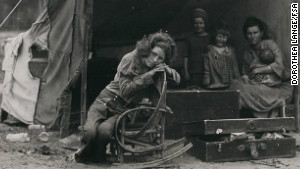 Florence Thompson, right, and her children were featured in Dorothea Lange's "Migrant Mother" photo.
"Mother Nature holds all the cards," said Mark Svoboda, a climatologist with the National Drought Mitigation Center. "You roll the dice ... every year. Nothing will make you quote-unquote drought-proof."
This year, Hurricane Isaac helped alleviate the current drought in some locales, but not in most, and certainly nowhere near enough to put a big dent in a phenomenon that's affected millions.
Is it happening again?
Over 63% of the contiguous United States in early September was suffering moderate to exceptional drought, nearly twice the land affected a year ago, according to the U.S. Drought Monitor. Using July data, the National Climatic Data Center reported that America is in the midst of its most expansive drought since December 1956.
The combination of dry conditions and extreme heat -- including hundreds of record-breaking temperatures this summer -- has been unbearable for many. The drought's impact has been seen in ways big and small, from leaves falling early and lawns turning brown to farmers giving up and lakes drying up, exposing hundreds of dead fish.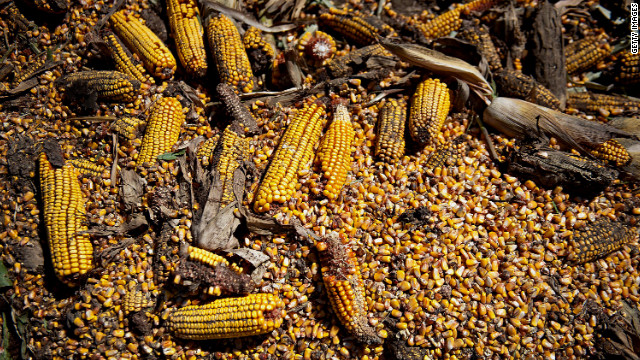 The drought had a negative impact on corn in Le Roy, Illinois. Drought occurred in six Plains states between last May and August because moist Gulf of Mexico air "failed to stream northward in late spring," and summer storms were few and stingy with rainfall, said a report by the National Oceanic and Atmospheric Administration.
A calf strains for mother's milk as they forage amid dry wheat husks on the Becker farm August 24 in Logan, Kansas.
Farmer Darren Becker sifts through arid topsoil under a ruined crop on the family farm on August 24 in Logan, Kansas.
Rancher Gary Wollert pauses before heading out for work on August 23 near Eads, Colorado. The nation's severe drought has been especially hard on cattlemen. Much of eastern Colorado and virtually all of Nebraska and Kansas are still in extreme or exceptional drought, according to the University of Nebraska's Drought Monitor.
A billboard, "Jesus in the Wheat," stands alongside Interstate 70 on August 24 in Colby, Kansas. The billboard was erected by local residents Tuffy and Linda Taylor. "We just put it up there to minister," Linda Taylor told the Hays Daily News.
A boat dock is left high and dry at the Morse Reservoir in Noblesville, Indiana, on August 16, where water depths are significantly lower than average because of a widespread drought.
Fish remains bake in the heat in an area that is usually underwater at the Morse Reservoir in Indiana.
President Obama inspects a drought-stricken area of Missouri Valley, Iowa, with corn farmer Roger McIntosh on August 13 as he campaigns in the area. Since mid-June, corn prices have risen about 60% because of declining crop yields.
Heat and drought have destroyed corn yields.
A car kicks up dust as it drives by corn fields on dry dirt road in State Center, Iowa.
Jeremy Tilton adds hay to a feed mixer for cattle he raises on pastureland near Cuba, Illinois.
A tractor cuts down corn in a field designated as zero-yield on a farm in Vigo County, Indiana, on Tuesday, July 31. The U.S. Department of Agriculture has declared more than half the counties in the country natural disaster areas as drought sears millions of acres of pasture and cropland.
A field of dead corn sits next to the Lincolnland Agri-Energy ethanol plant in Palestine, Illinois, on Wednesday, July 25.
An employee stocks dairy products at a supermarket in New York on Wednesday, July 25. The U.S. Department of Agriculture said prices of dairy products like cheese, milk and eggs are expected to rise 2% to 3% because of the drought.
Corn stalks struggle to survive in a drought-stricken farm field on Thursday, July 19, near Oakton, Indiana. The corn and soybean belt in the middle of the nation is experiencing one of the worst droughts in more than five decades.
A field of corn shows the effects of the drought on a farm near Fritchton, Indiana, on Wednesday, July 17.
Farmer Ed Schoenberg and his son harvest oats early in attempt to salvage their drought damaged crop near Burlington, Wisconsin, on July 17.
Corn is watered with an irrigation system near Fritchton, Indiana, on July 17.
A single stalk of corn grows in a drought-stricken field near Shawneetown, Illinois, on July 16.
Brown and dry, a field of corn sturggles to survive drought conditions near Uniontown, Kentucky, on July 16.
Illinois Gov. Pat Quinn examines a drought-damaged ear of corn near Waltonville, Illinois, on July 16.
A weed grows thorugh the dried and cracked earth where a pond used to br near Ashley, Illinois, on July 16.
Farmer Marion Kujawa looks over a dried-up pond where his cattle used to water, near Ashley, Illinois, on July 16. Kujawa is digging the pond deeper so that the water will last longer in the future.
Farmer Albert Walsh walks through his drought-damaged corn field in Carmi, Illnois, on July 11.
The drought plaguing the Midwest has taken a harsh toll on America's corn crops, such as this one in Grayville, Illinois.
Swimmers relax in the shallow waters of the Mississippi River at Meeman-Shelby Forest State Park in Tennessee on July 6. Drought conditions have lowered the river's levels considerably from this time last year.
Fish skeletons line the bottom of a drainage ditch in Skelton, Indiana, on July 12.
Soybean seedlings push their way through dry soil in Skelton, Indiana, on July 12.
Cattle graze in a field on July 13 near Paris, Missouri. Many ranchers are rushing to sell off their herds as hay supplies dwindle and feed prices soar.
Cracked, dry ground marks the area where a pond normally stands in Crossville, Illinois, on July 11.
Brown corn stalks stand in a drought-stricken field on July 11 in Carmi, Illinois.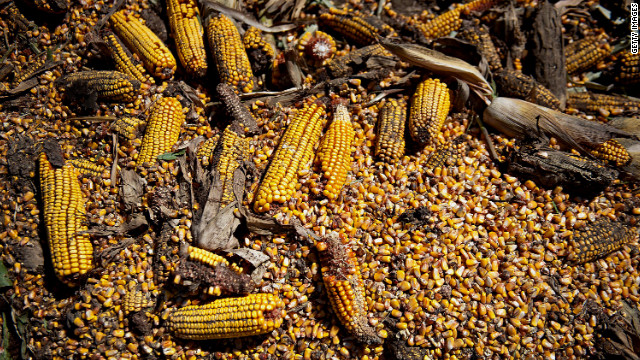 Photos: Drought ravages Midwest
"It does look like a moonscape," Svoboda said of parts of western Oklahoma, where dirt drifts into mounds and soil climbs over fence posts. "There are some parts of the country where (dire farming conditions) have nothing to do with them failing to till over the soil," as was commonly blamed for "dust storms" of the 1930s.
LIFE.com photos: Dust Bowl survivors, Oklahoma, 1942
Driving through southern Wisconsin, CNN iReporter Jim Jostad saw heap after heap of chopped-down corn sacrificed by farmers who had conceded this year's crop, hoping if anything to salvage some of the loss by selling off as cattle feed what did sprout up.
Dozens of farmers markets in Oklahoma were without vendors months earlier than had been expected because their bounty was so meager, said Nathan Kirby of the state's Department of Agriculture, a year after closing even earlier due to similarly hot, arid conditions.
While consumers may be worried about rising food prices tied to the drought, many farmers have seen their incomes all but evaporate because crops won't grow -- finding even irrigated farmlands cannot pump in enough moisture, given the rate it evaporates back into the atmosphere in high heat.
It hasn't been easier for those who raising cattle and other animals, at a time of scorched pastures and scanty, costly hay and other feed. Ranchers have been forced to prematurely sell off their cattle, saying they had no other choice because it cost more to feed them than to keep them.
Oklahoma ranchers "liquidated" -- meaning slaughtered or sold off, without replacing them with newborns or new purchases -- 14% of their livestock last year, said Derrell Peel, an Oklahoma State University faculty member who works with ranchers and affiliated companies in that state. The only reason rates haven't been similarly high after this summer is because ranchers don't have as many animals to sell, he said.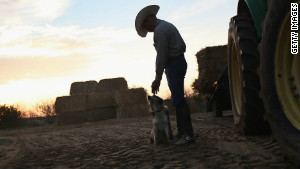 The nation's severe drought has been especially hard on cattlemen like Colorado rancher Gary Wollert.
Families trying to make a living raising cattle have been especially hard pressed. Take Mark Argall of Mountain Grove, Missouri, who sold 33 of his cherished cows (leaving only a few behind) for less than half what they might have earned before the drought.
"They're not just numbers on a computer," Argall said. "They're members of the family."
Can it happen again?
So what can be done to prevent another Dust Bowl disaster?
Rains from Hurricane Isaac might have made headlines, but they alone won't make a dent in the drought. Ironically, the Dust Bowl era had wet spells, too -- including flash floods in the Great Plains -- though they did not alter the devastating equation much, according to U.S. Department of Agriculture meteorologist Brad Rippey.
What farmers and ranchers do have working in their favor, compared to the 1930s, are new tools, techniques and other developments that help them better manage droughts, storms and other harsh weather realities.
Photos: Drought around the world
Svoboda, with the National Drought Mitigation Center, rattles off several such changes -- from more effective soil preservation measures to hybrid seeds to the inception of center pivot irrigation. He adds, too, that things like cell phones and computers make it easier for farmers, ranchers and others to understand what's coming, then adjust.
And the most significant difference between the 1930s and today -- and the main reason for hope that it won't be as bad -- is time. The Dust Bowl era is generally defined as an eight-year stretch; while parts of Oklahoma and Texas are in the second year of drought, the rest of the United States is in its first.
In other words, there's still a long way to go.
If the precipitation picks up, "row farmers" cultivating crops like corn, soy beans and sorghum using modern farming practices should be able to recover next year.
"If they have a normal rain pattern, it's basically a zero recovery period," said Rippey. "You are going from a (devastated) 2012 crop to normal."
But those raising livestock may feel the effects of this drought for longer, even if there's more rain. Some strained pastureland and hay fields may revive with above average, more sustained rainfalls than ordinary. But other lands may be a lost cause, with replanting the only way to save them. Peel called the next one to two months "critical," as some rain soon may help save these lands so ranchers do not have to start from scratch.
Still, even if their pastures improve or hay prices drop, those who sold off many of their livestock in recent years likely cannot afford to buy the same number back, and return to normal, anytime soon.
"Grazing and ranching are totally at the mercy of rain-fed crops and pastures," said Svoboda, pointing especially to the susceptibility of grass and hay to a lack of moisture and excess of heat. "They just don't control those factors at all."
If drought conditions do persist, they can have a steamroller effect. "The suns' rays are more efficient (when) you have parched soils," said Rippey, the USDA meteorologist, adding that it becomes harder for new moisture to make an immediate impact.
"These droughts, when they tend to go multiple years, it really starts to feed on itself," adds Svoboda.
Girl from iconic Dust Bowl photo: 'We were ashamed'
We haven't got there quite yet, but we could be if more precipitation doesn't fall over the Great Plains and beyond.
As they try to predict the drought's future, meteorologists say they will look first to whether this fall and winter are wetter and cooler than last year, hoping that it will saturate soils and rivers and spur a wetter trend that continues into next spring and summer.
As is, some states out west had two straight La Nina winters that "tend to really suck you dry," Svoboda explained. Typically lasting a year or two, La Nina is characterized by cooler than normal sea-surface temperatures in the central and eastern Pacific Ocean that has a domino effect on global weather -- leading to more rainfall than normal in some locales and drought in others.
"If we had a third consecutive La Nina, there are some statistics that would be scary," he added. "But the odds of La Nina (continuing) are very small right now."
Still, no one predicted practically a full decade of minimal rain, maximum heat during the Dust Bowl era either. The fact is, for all the forecasts and farming innovations, keeping one's fingers crossed for change in the weather may be as useful as anything else.
"Right now, it's just a question of Mother Nature giving us a break," said Derrell Peel, from Oklahoma State.
By the numbers: Today's drought vs. the Dust Bowl era